Nothing beats a great fabric on clearance. The other day I found one that I just couldn't pass up. It was perfect for testing out the bag tutorial which I posted on the website. I was pretty impressed with how it turned out (as I consider myself a beginner still after 30 years of basic sewing). After I was finished, I had quite a large piece of left over fabric. This made me think… time to learn how to sew a fabric wallet to match! I found this tutorial from Madam Sew that I thought was perfect for beginners. I picked this tutorial to share because it has some easy step by step instructions, as well as a video. So… let's test this one out!
UPDATE: I tested this out. She did a great job with the tutorial, however for our newest beginners I wanted to simply it even more! Below the tutorial, you will find a video on how I simplified this a little bit more and excluded the zipper pocket.
Not ready to sew this project yet? Save it here on Pinterest for later…
---
How To Sew A Fabric Wallet From Madam Sew
This little sewing project is perfectly doable for a relatively new sewer. Yes, there is a little zipper, but it's not difficult. I promise.
This wallet makes a great gift or a lovely selfish treat. Gather some beautiful fabrics or use your scraps for a zero waste project.
The finished wallet is 4 by 8 inch.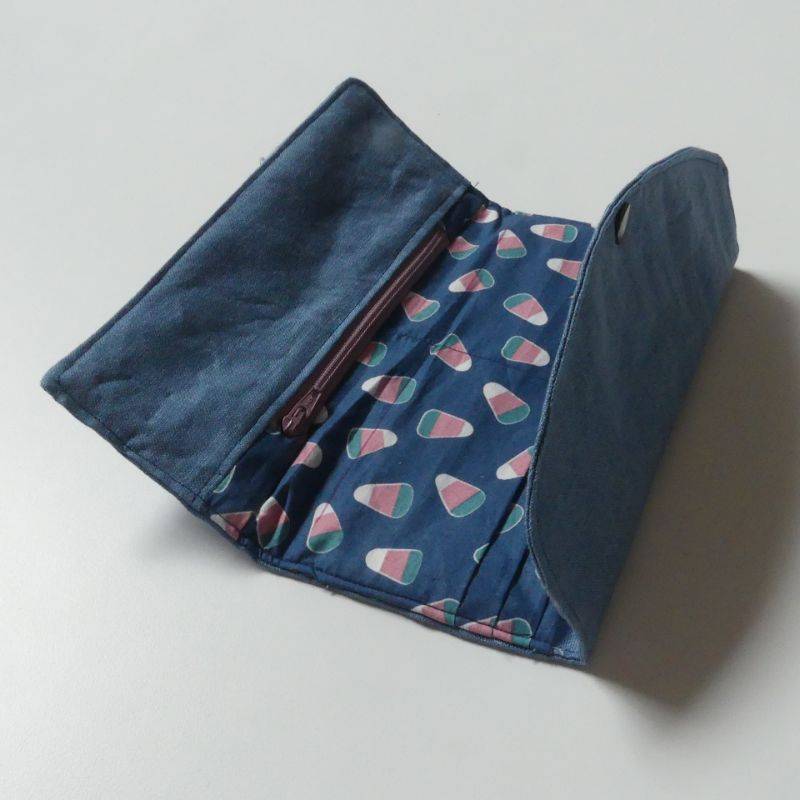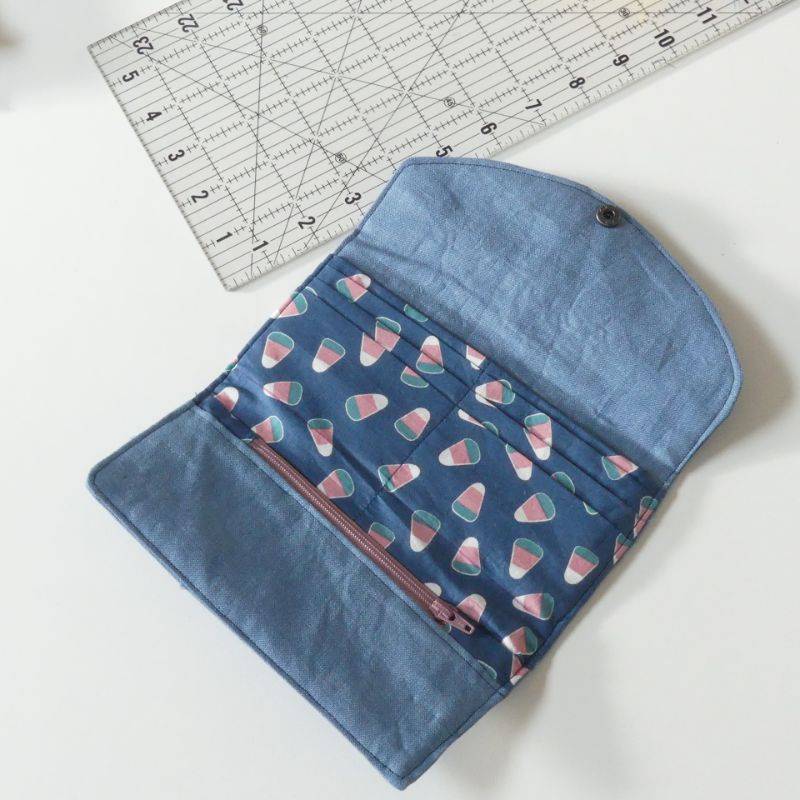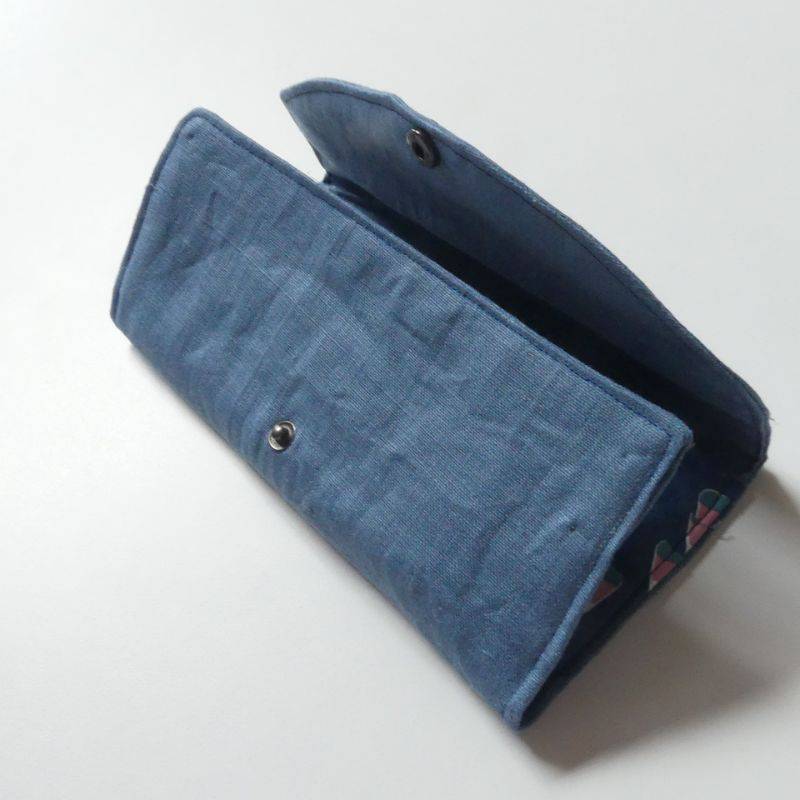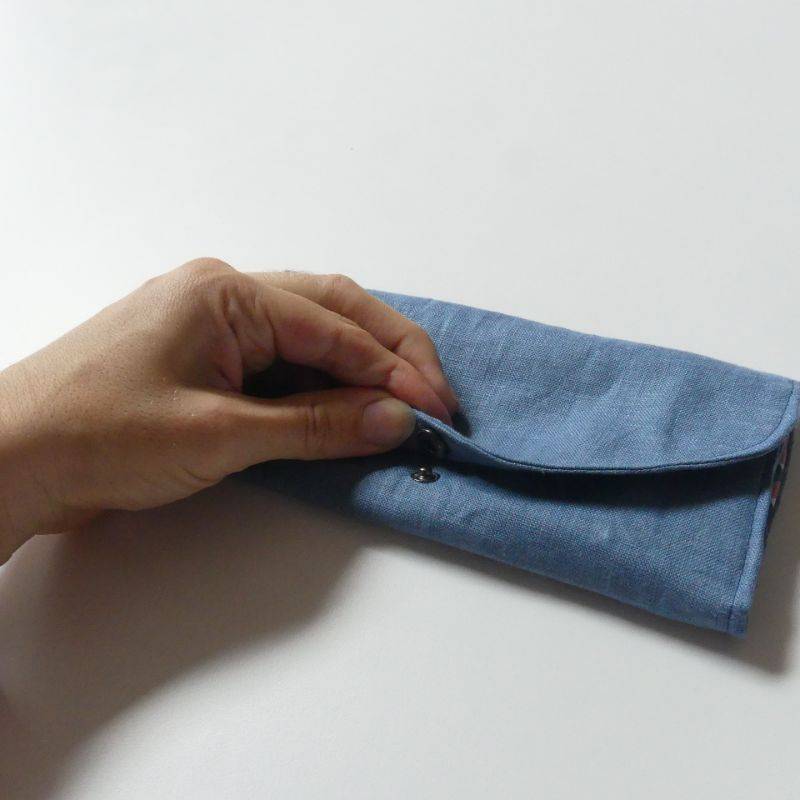 PREPARATION
Supplies…
A 7" zipper (mine is smaller, I didn't have a 7" at hand that matched my fabric)
A snap button or magnetic snap
exterior fabric = ¼ yard
interior fabric = ¼ yard
pocket fabric = ¼ yard
all-purpose fusible interfacing = ¼ yard
¼ yard of fusible fleece or batting to give some body to your project
NOTE: You can use the same fabric for all parts and just buy ¾ yard of your favorite fabric!
Download and Print Patterns
Time to cut the following fabric pieces:
Copy pattern piece 1 on the interior fabric and cut out
Copy pattern piece 2 on the interior fabric and cut out
Measure a rectangular piece: 8 ½" x 20" on the pocket fabric and cut out
Measure two rectangular pieces: 2 ½" x 1 ¼" on the pocket fabric and cut out
Tape pattern piece 1 & 2 together and copy on the exterior fabric and cut out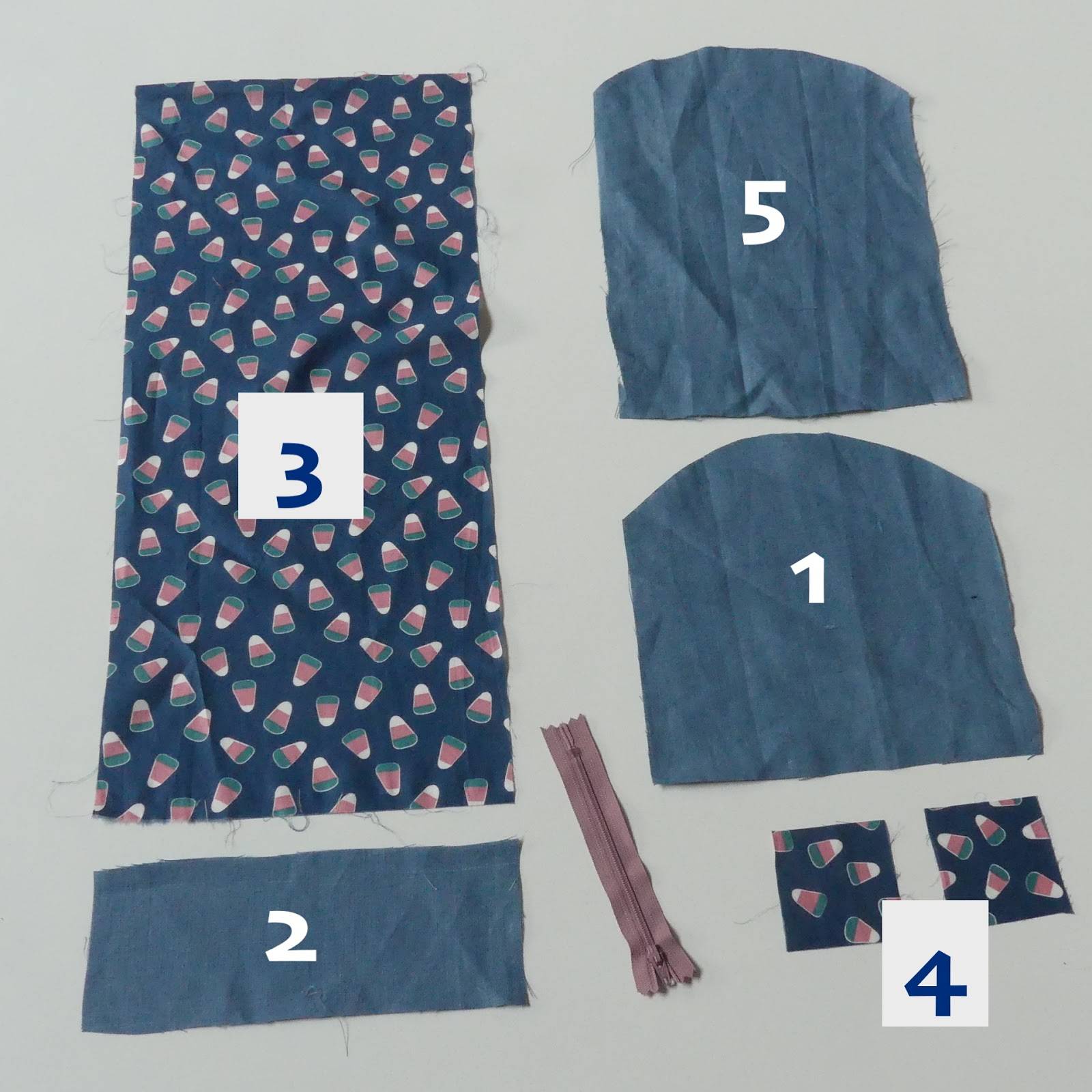 LINE up the following pieces:
From pattern piece 1 = interior→ all purpose fusible interfacing
Cut from pattern piece 2 = interior → all purpose fusible interfacing
Pattern piece 1 + 2 = the exterior part→ fusible fleece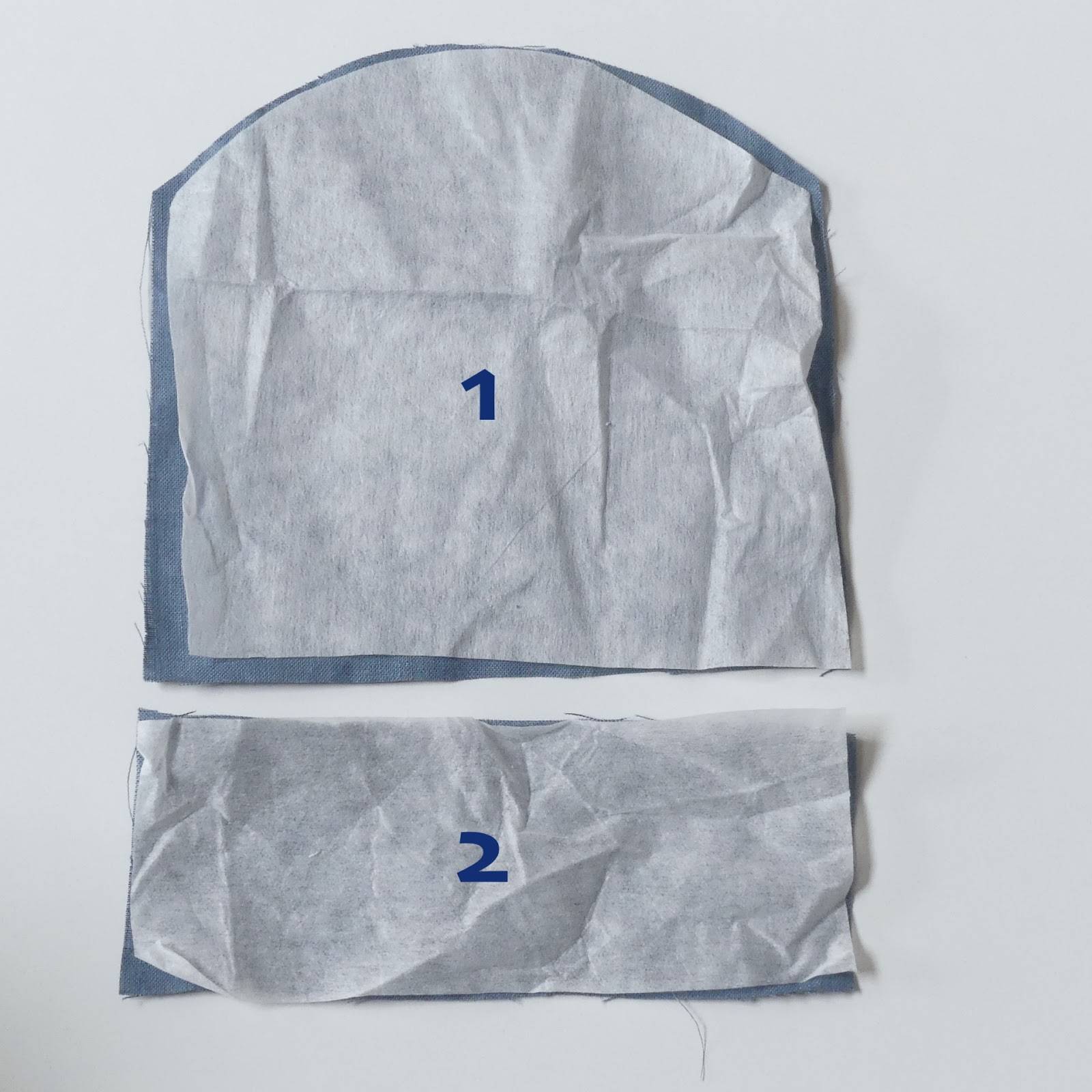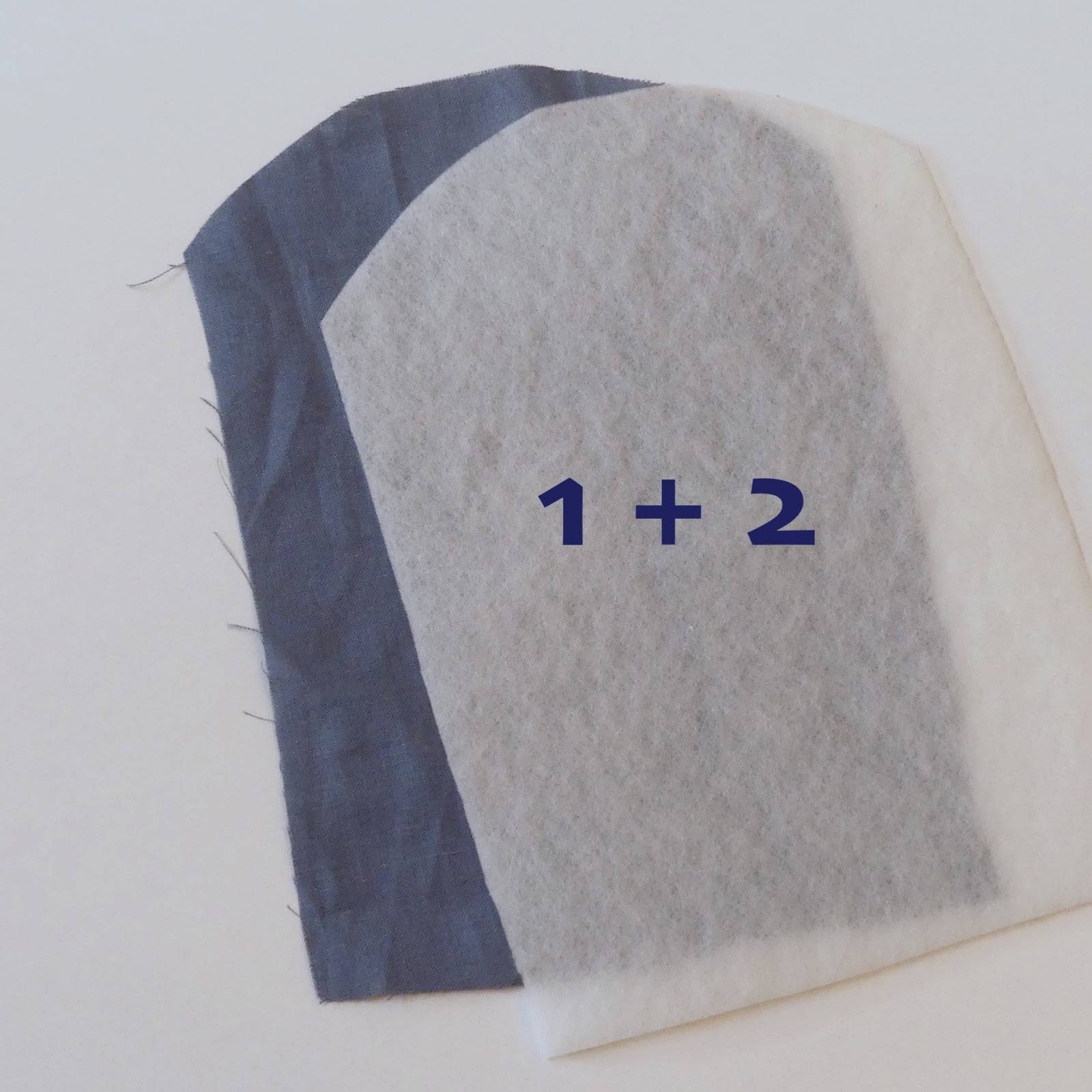 SEWING
1. Let's tackle the ZIPPER first: Take the 2 small squares and place them on each end of the zipper, right side down, 1 ½ inch from the edges. If you fold them open the total length of the zipper piece should be 8 ½ inch, the same width as the wallet pieces.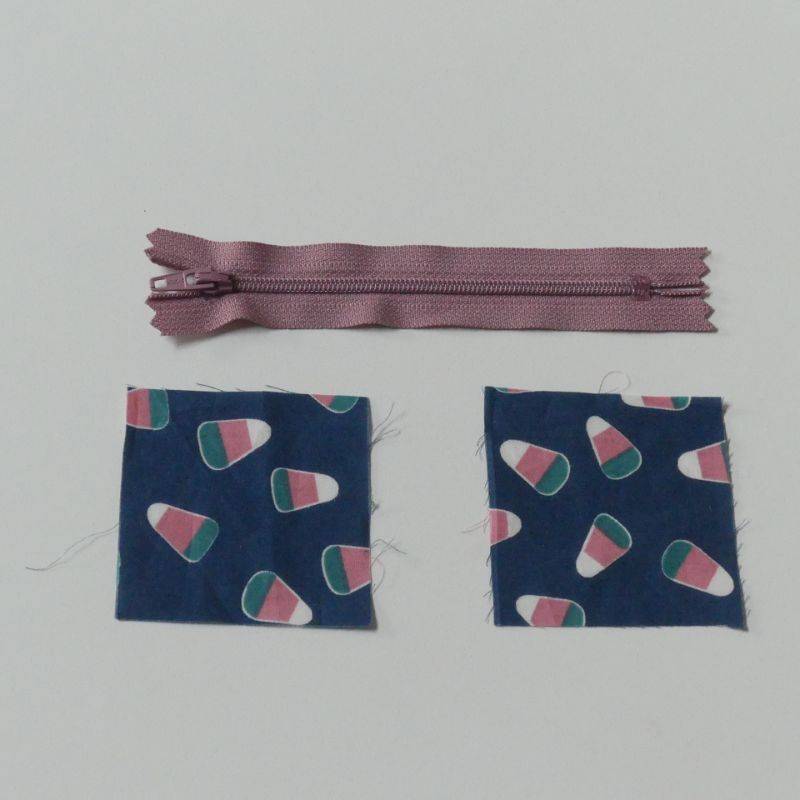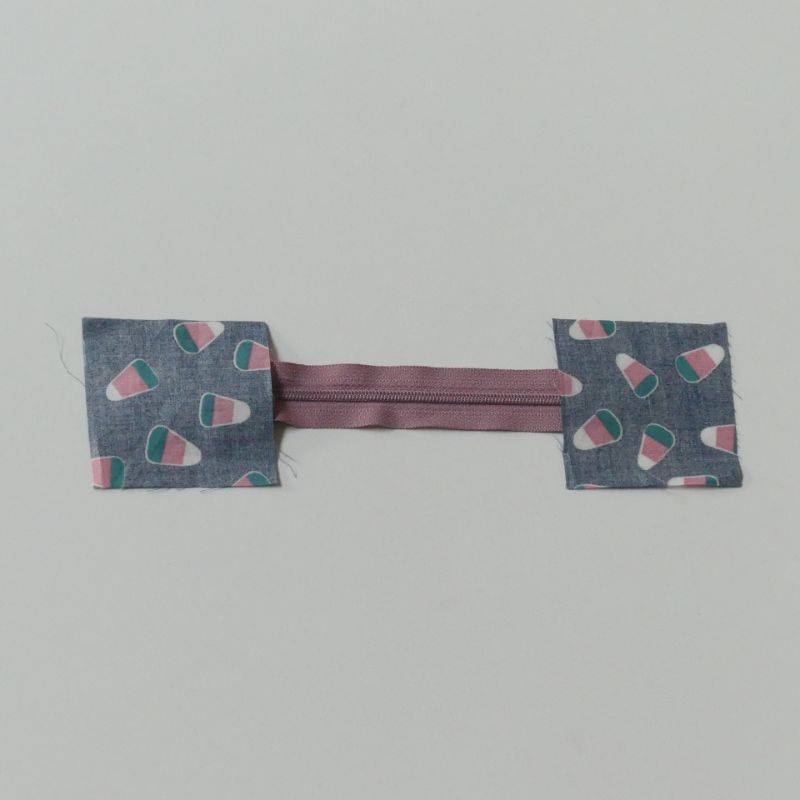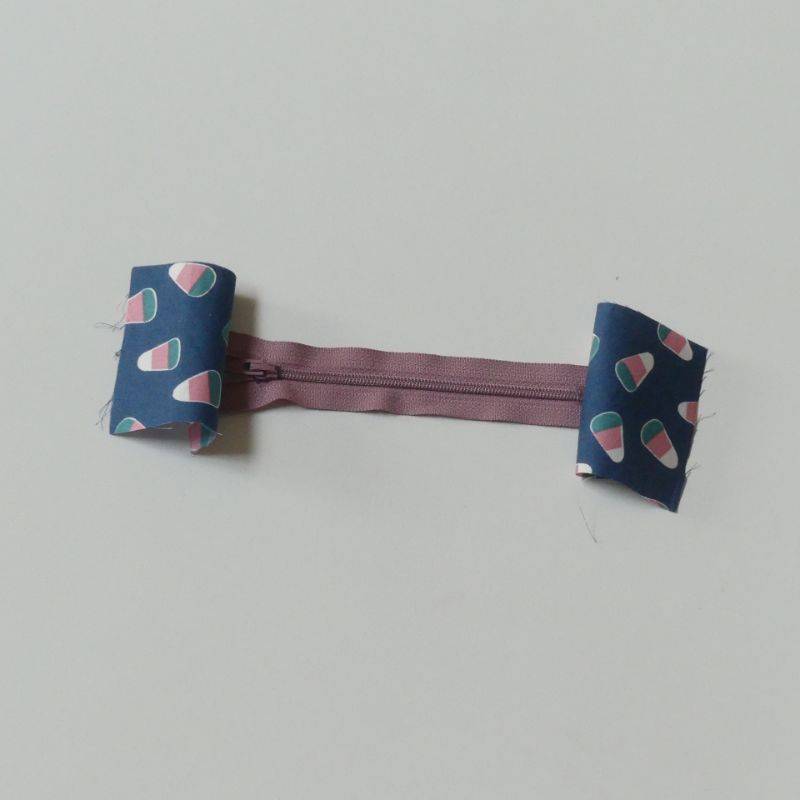 Sew the squares on the zipper, press the 2 pieces open, and trim of excess fabric.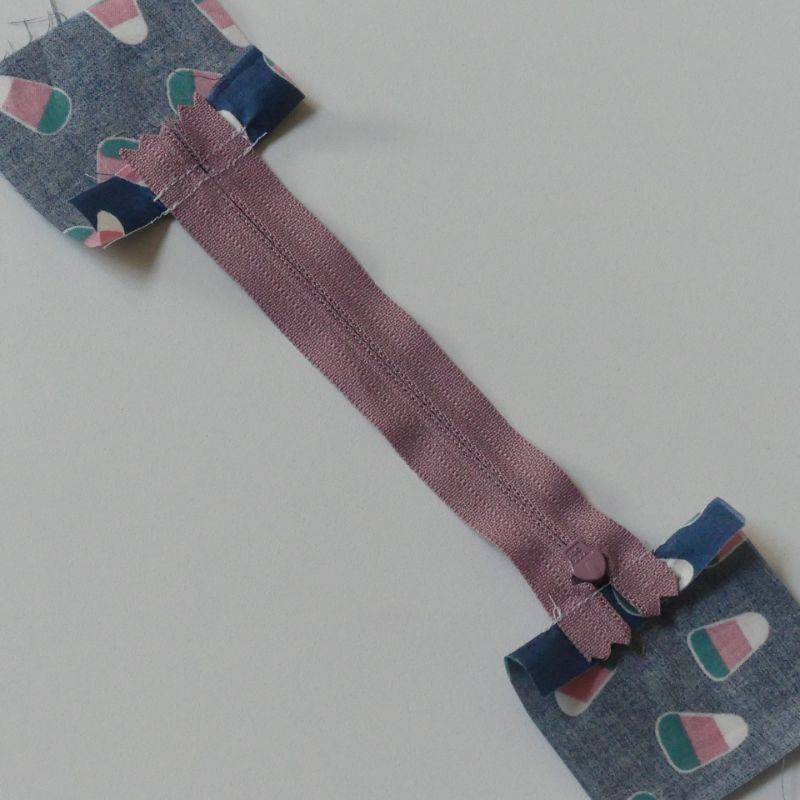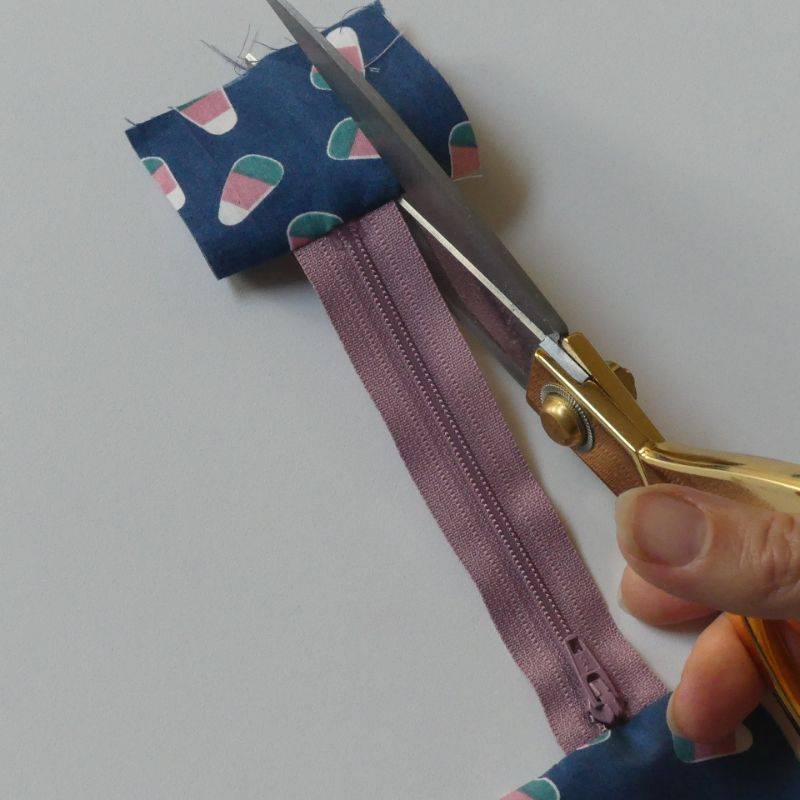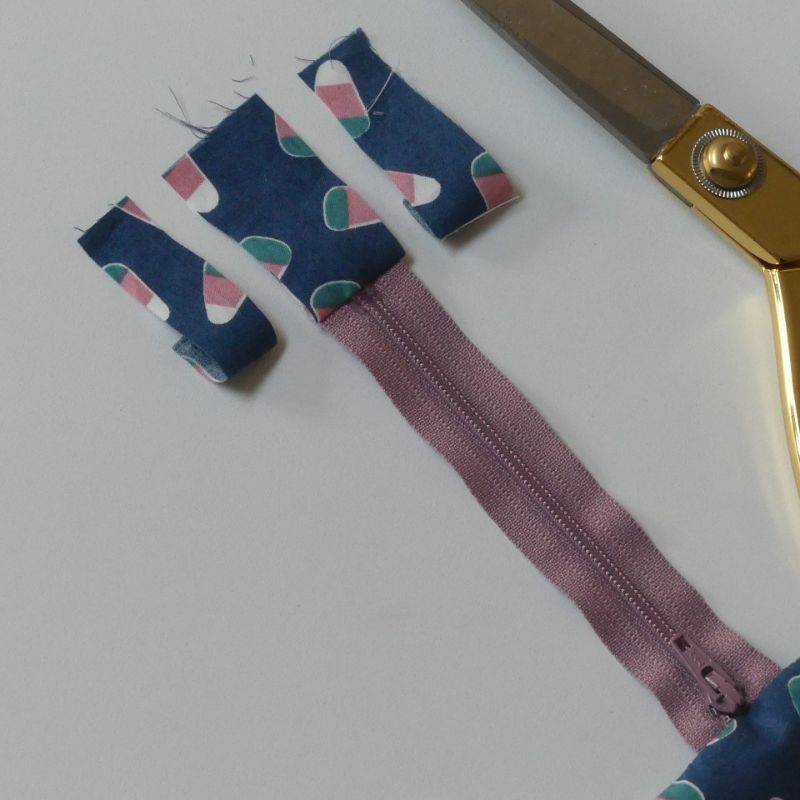 2. Take PATTERN PIECE 2, put it on the zipper piece you just assembled, right sides facing, and sew a ¼" seam.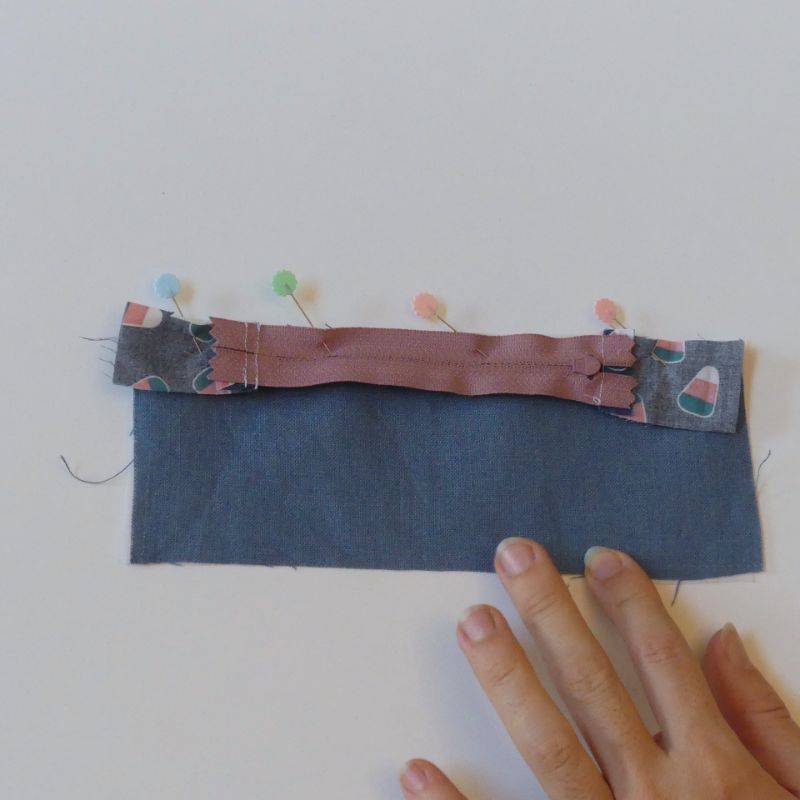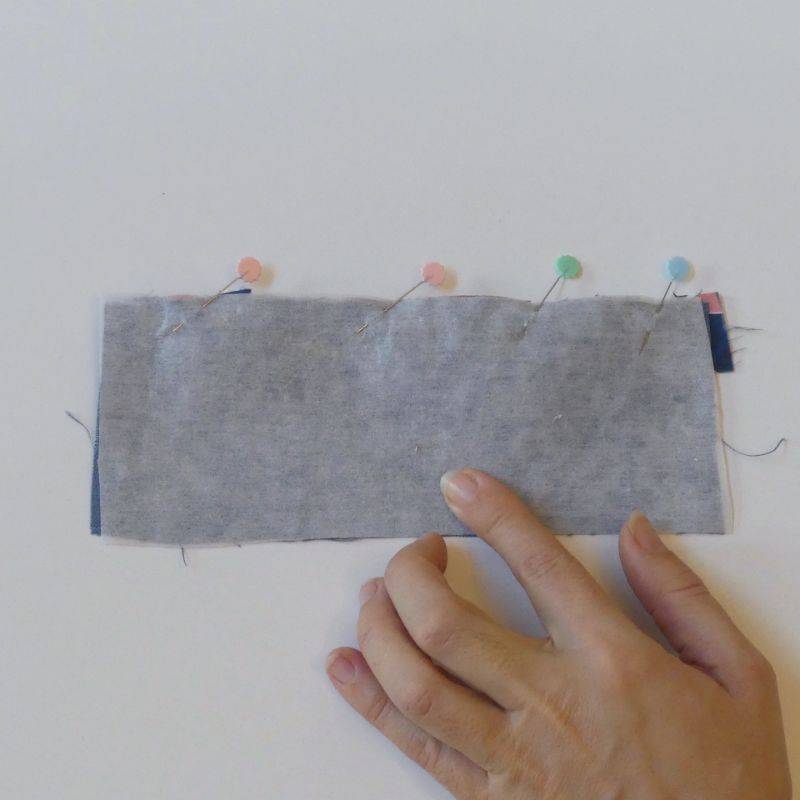 Press open and top stitch along the zipper with your zipper foot. This is now the zipper pocket piece.
3. Next, take the big POCKET PIECE. First double fold the top edge and sew a ⅜" hem.
Now we're going to fold a paper fan. Draw marks at 2 ⅜ inch, 4 ⅜, 6 ¾, 8 ¾, 11 ⅛, 13 ⅛ inch. The back side of each pocket is 2 ⅜ inch and the front side 2 inch.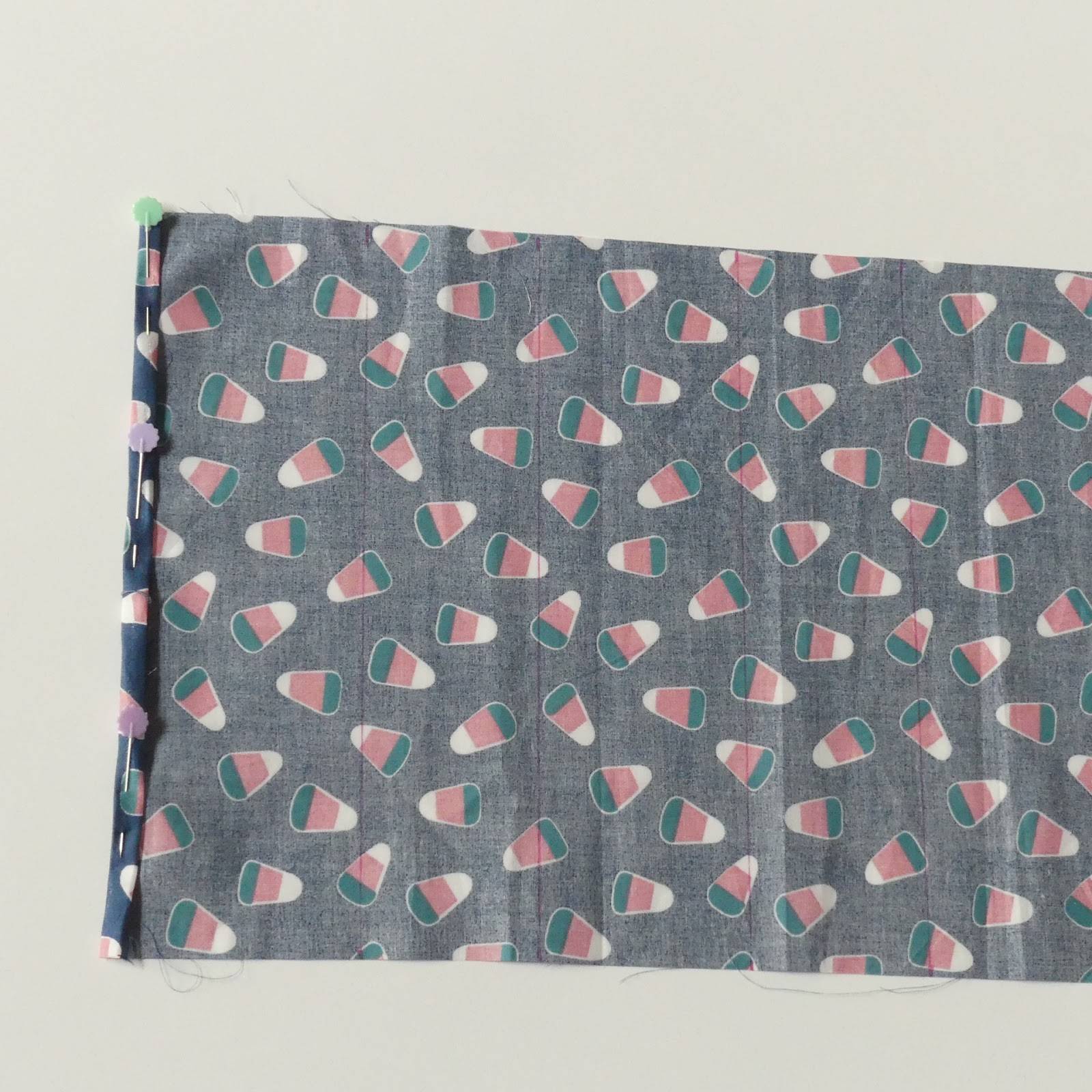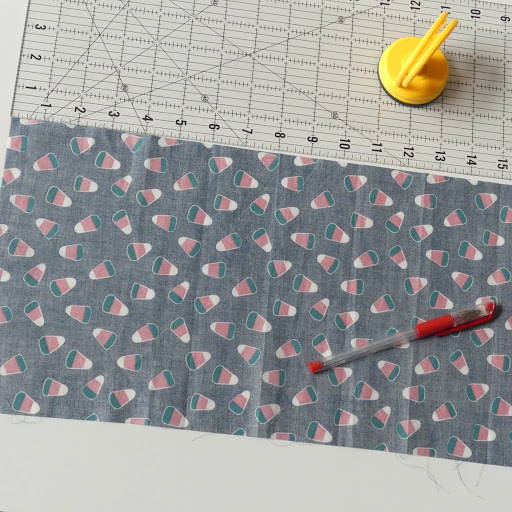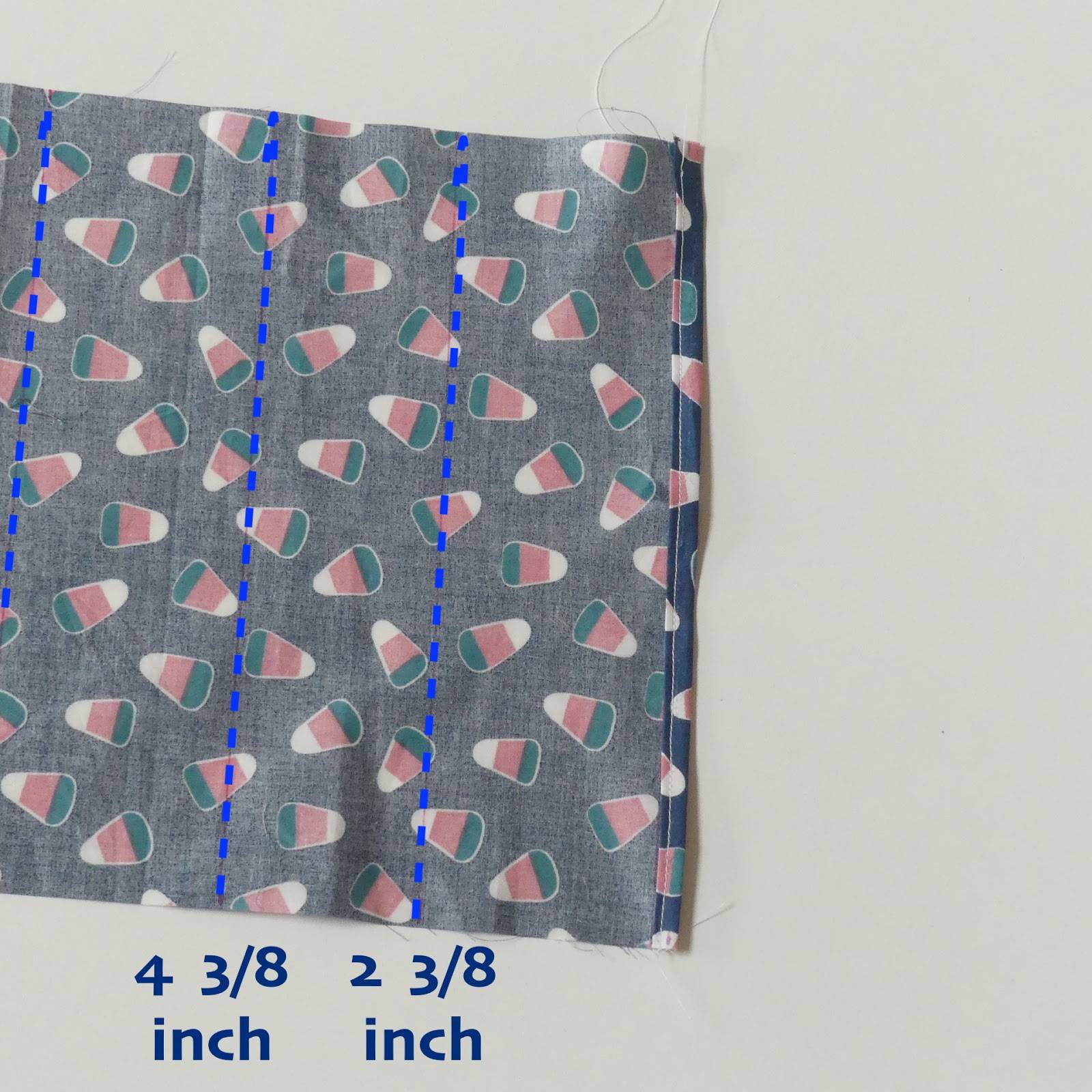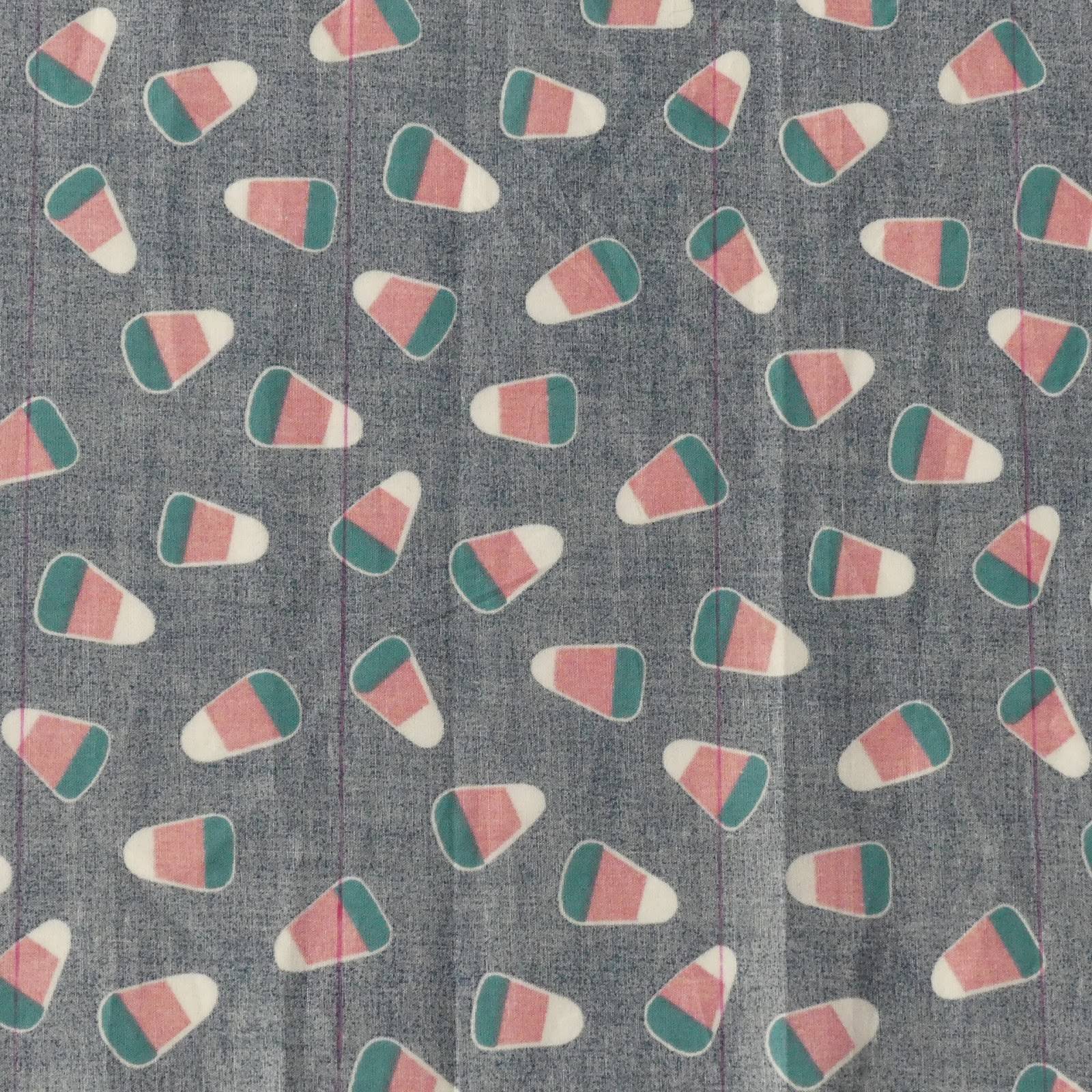 Fold the fan to make 3 long pockets and press the folds down.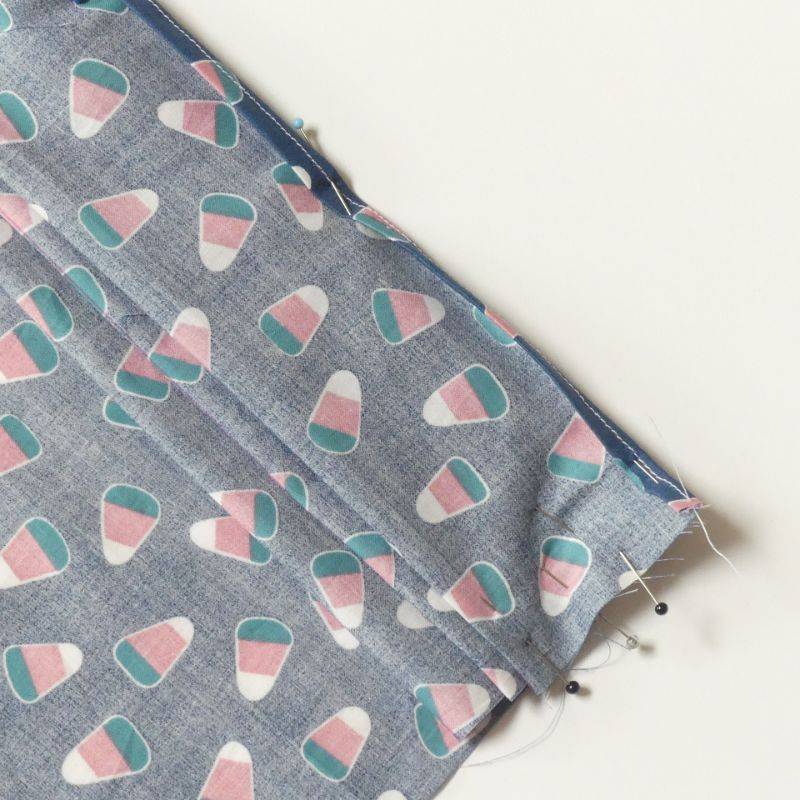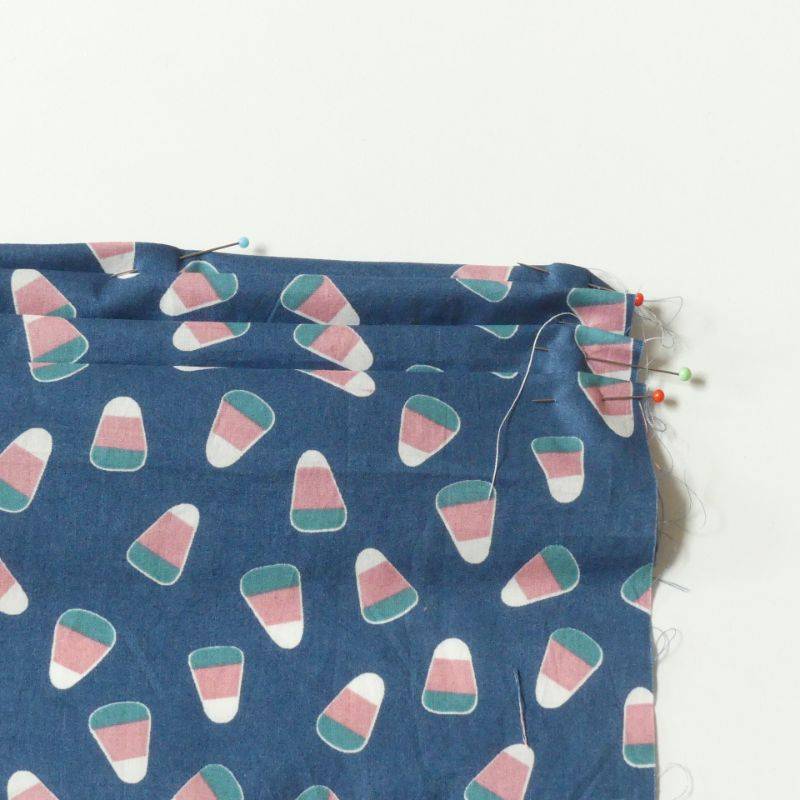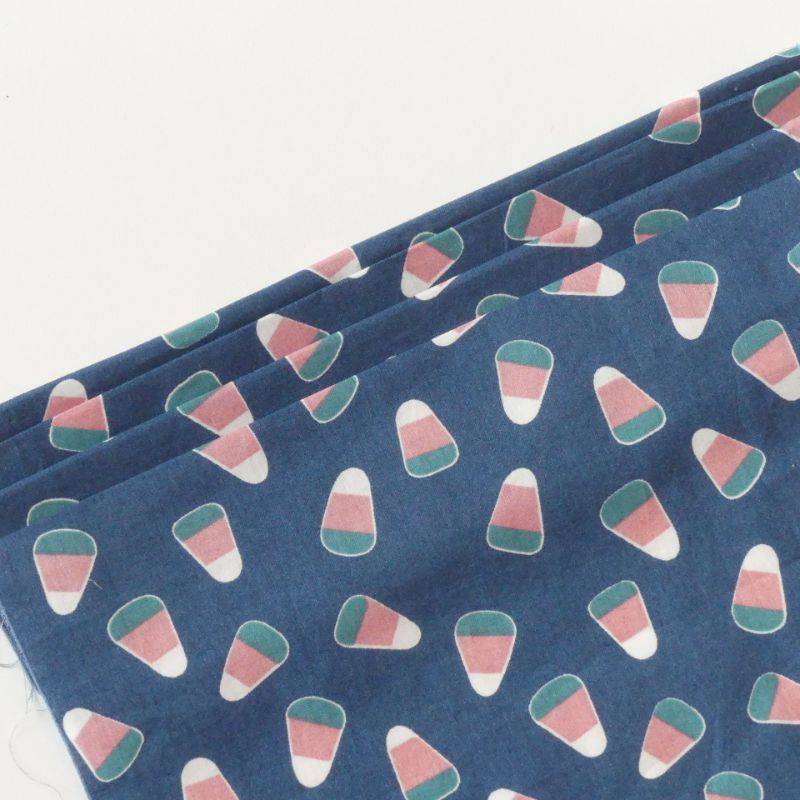 Find the middle point (4 ¼ inch), mark it on both ends, draw a helpline and topstitch that line. Also stay stitch on both edges at ¼" to keep the pocket folds in place.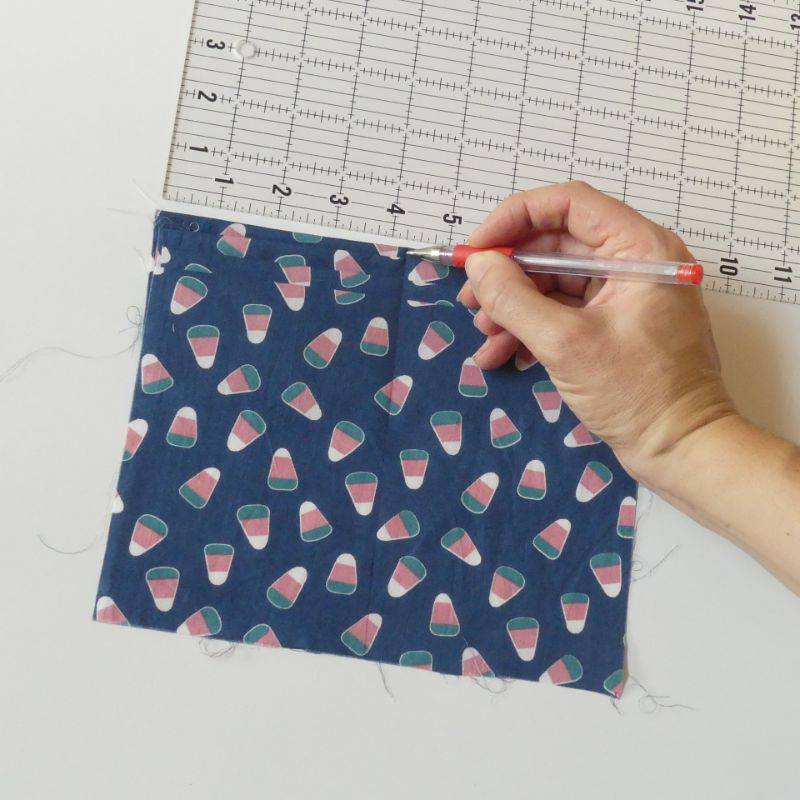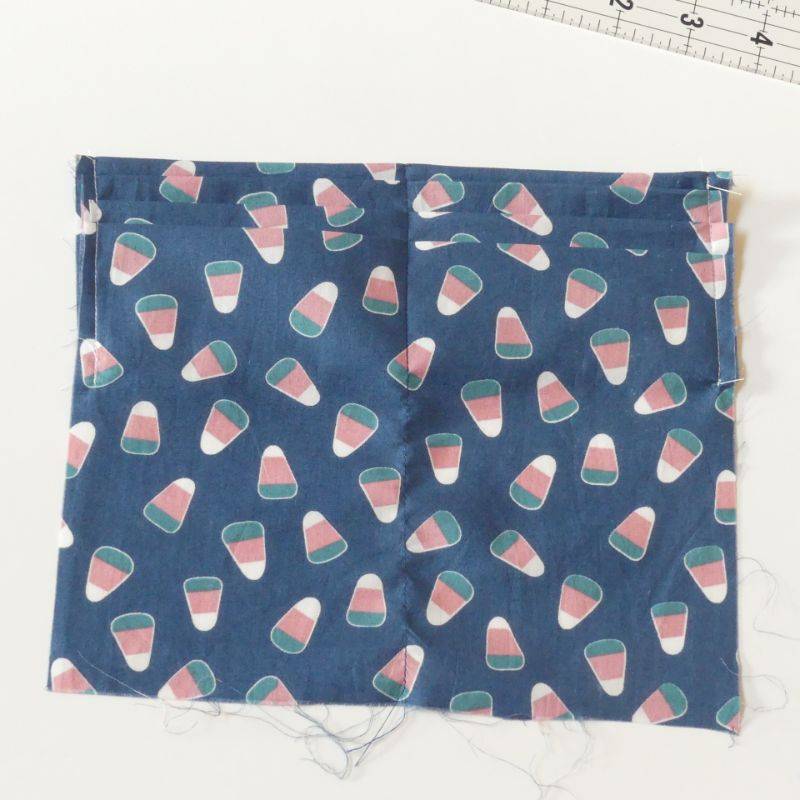 Assemble…
4. Take PATTERN PIECE 1. Place your pocket piece on top of this interior piece about 4 ⅜ inch down from the top. Pin down and sew another stay stitch along the left and right sides at ¼ inch.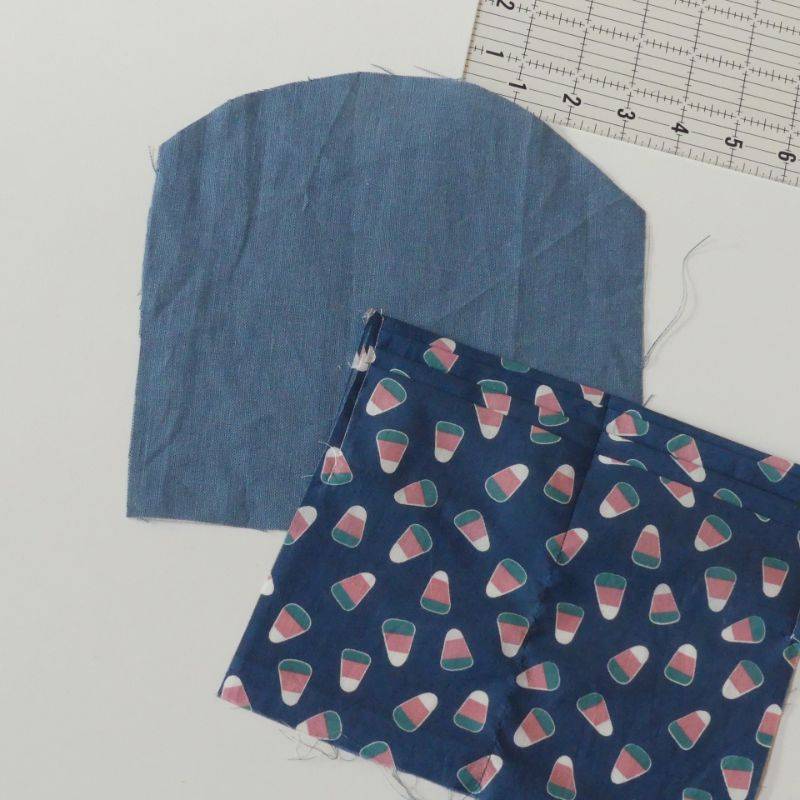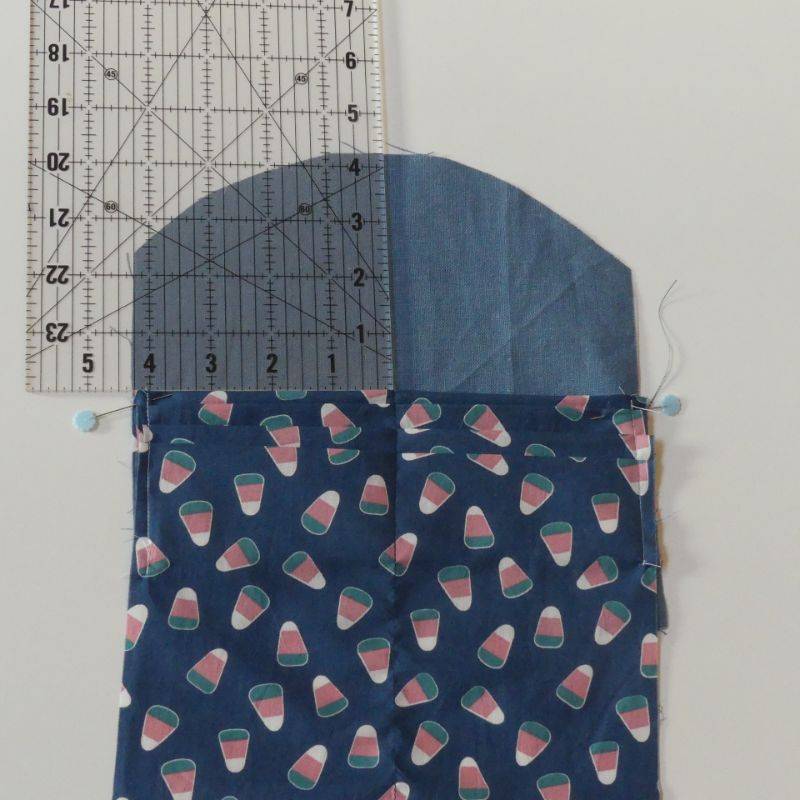 5. Take your zipper pocket piece. Align the bottom edge of this piece with the bottom edge of your folded pocket piece, fold over so right sides are facing (the zipper edge is about 8 ½" inch from the top edge) and sew the zipper piece and business card pocket piece together along the zipper edge with your zipper foot. Press open.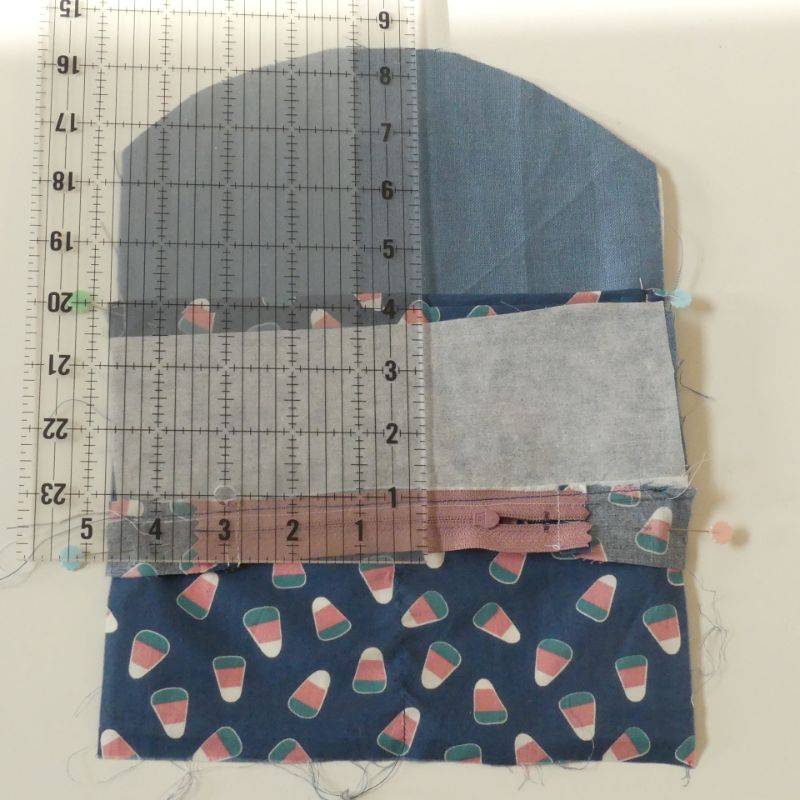 6. Stitch through the pocket piece and the interior piece just beneath the 6 pockets. This way, you close the big top pocket behind the business card pockets. I forgot this while making this wallet. Look at the YELLOW line in the picture below to know where to put the topstitching.
7. Take your BUTTON and the exterior piece. Measure 3 inch from the bottom edge and find the center. Attach one part of the button here. The top part will be attached in the last step. I've used a MadamSew metal snap button that is in this handy box. HERE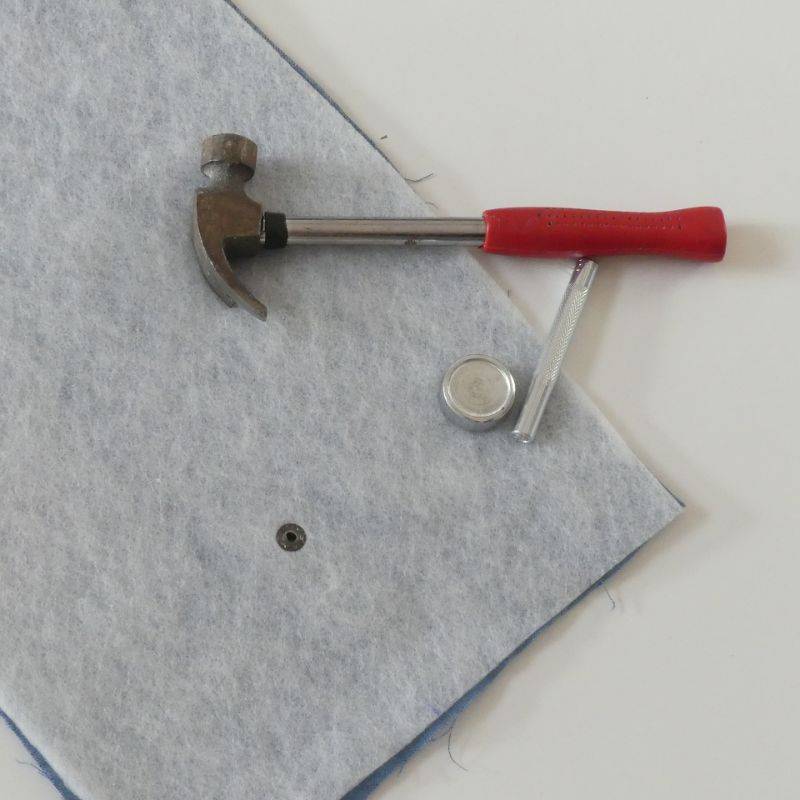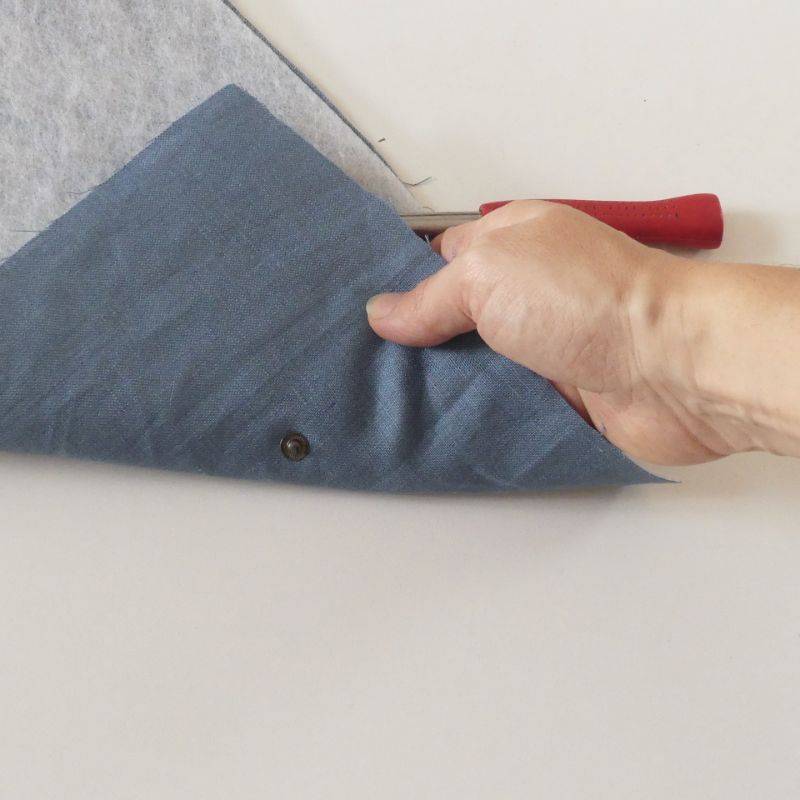 8. Place the EXTERIOR PIECE and your interior piece together, right sides facing, and pin all the way around.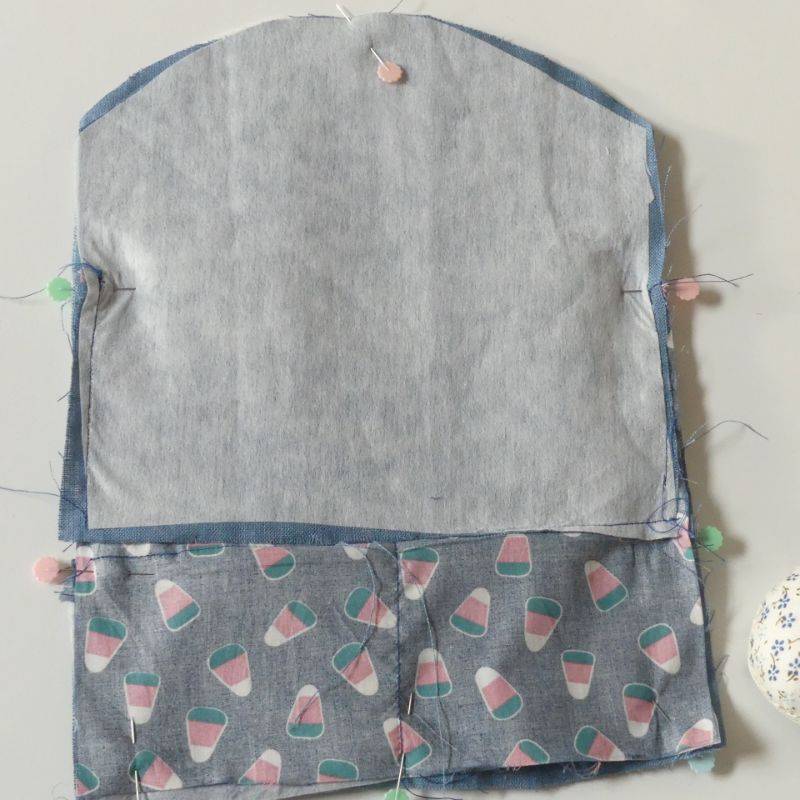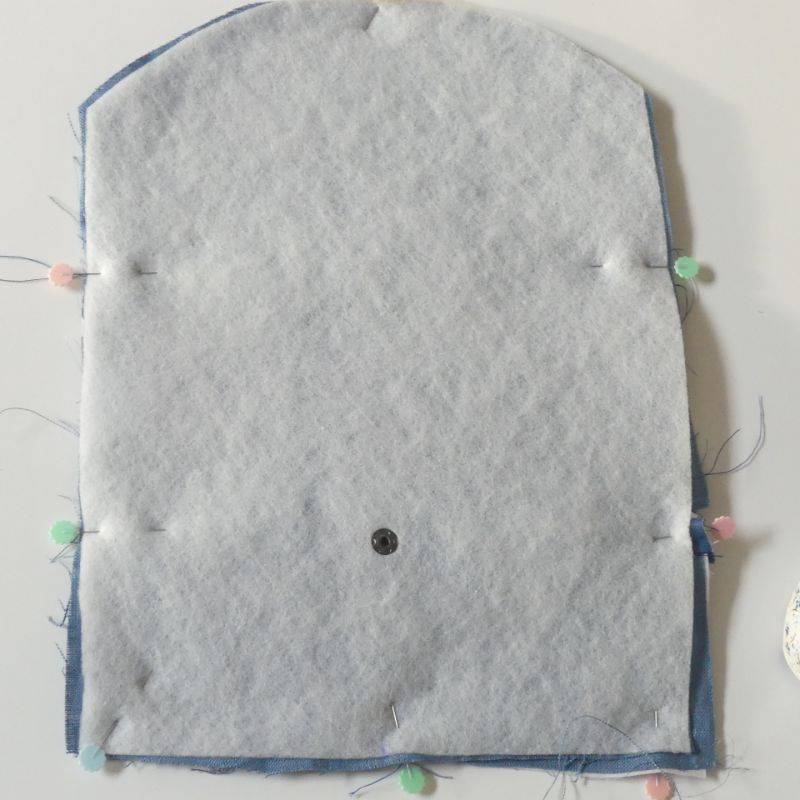 Finishing touches…
Now stitch all the way around along the edges at ½" and leave a turning hole in one of the straight sides, not at the top. Closing a curved line is more difficult than a straight seam. Clip your corners and the round edges at the top.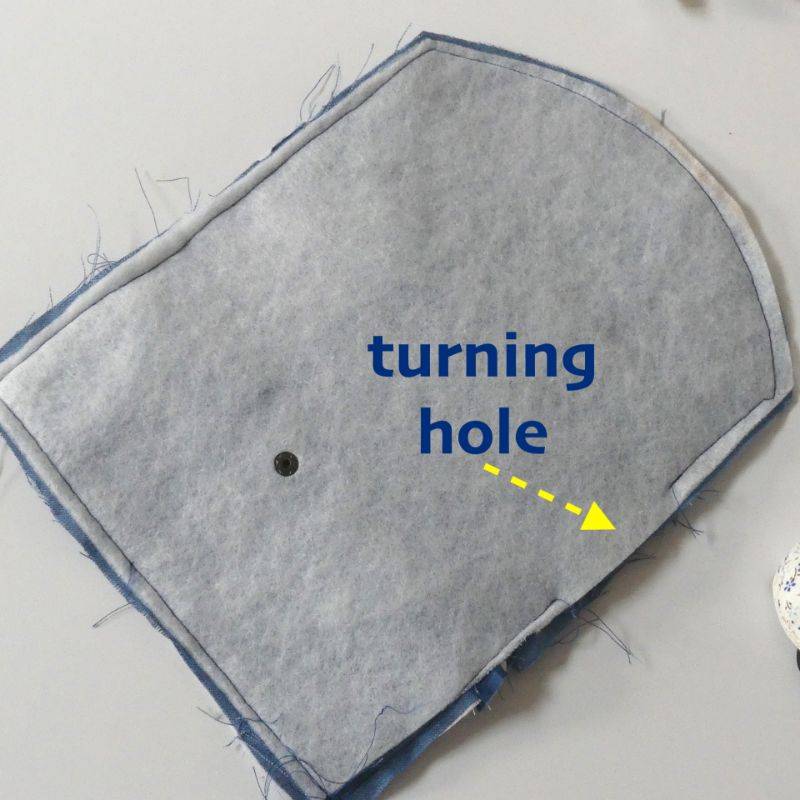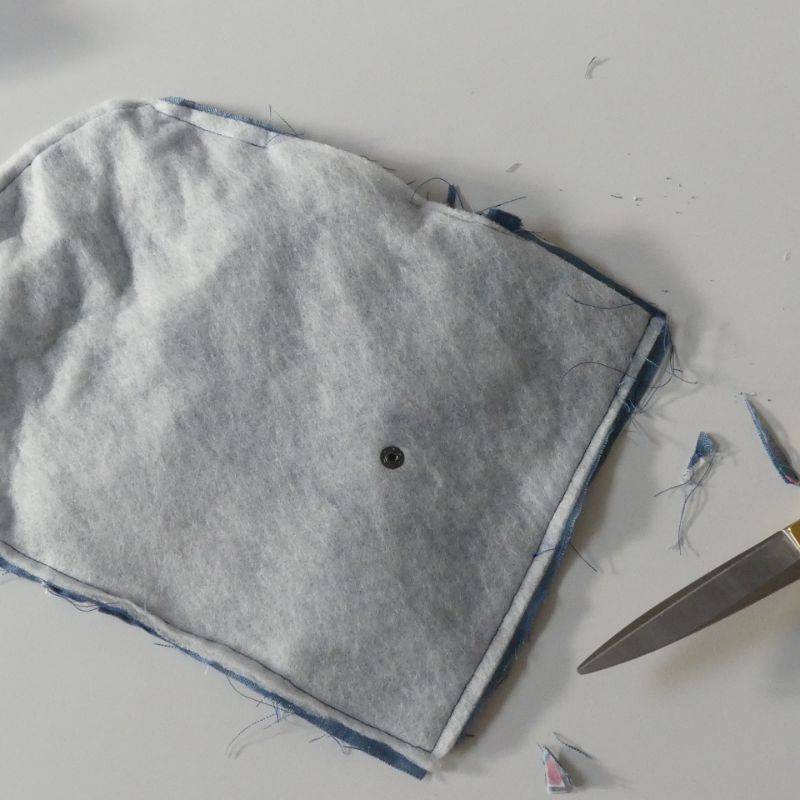 10. Now attach the other button part. Find the center point at the top edge. Attach your snap here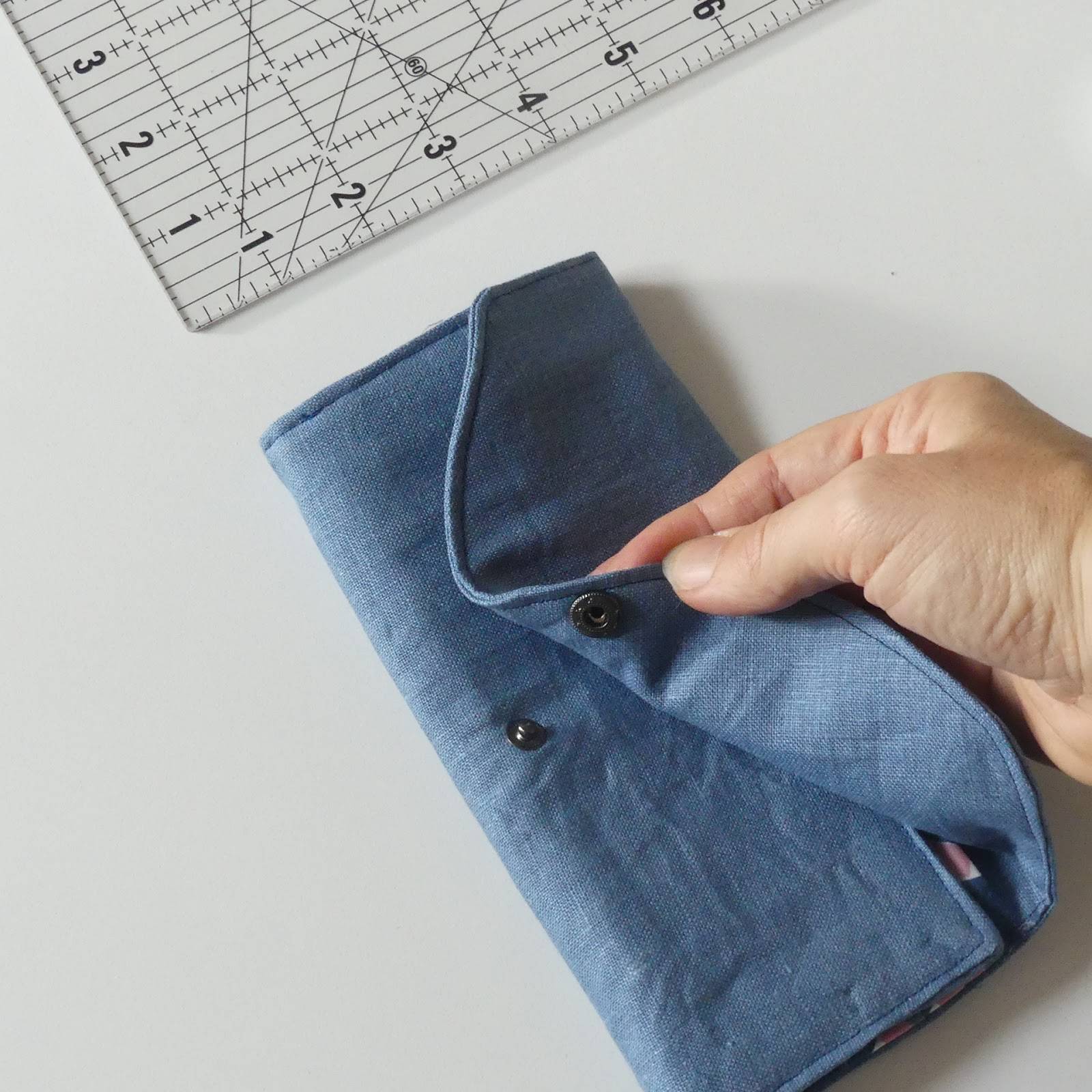 There you have it! A nice wallet! Play around with different colors and textures.
A SIMPLIFIED VERSION
If that looked a little overwhelming for you, no worried, I have put together a short video to show you how I simplified this a little bit. I was able to eliminate a few steps, measuring, as well as the zipper pocket. If you are just starting out, try this version. Once you have mastered it, add in the zipper!